This recipe was clipped from a newspaper and found in a large collection, date unknown. I've typed it below along with a scanned copy.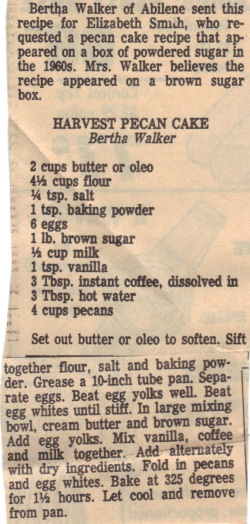 Bertha Walker of Abilene sent this recipe for Elizabeth Smith, who requested a pecan cake recipe that appeared on a box of powdered sugar in the 1960s. Mrs. Walker
believes the recipe appeared on a brown sugar box.
Harvest Pecan Cake
2 cups butter or oleo
4 1/2 cups flour
1/4 tsp. salt
1 tsp. baking powder
6 eggs
1 lb. brown sugar
1/2 cup milk
1 tsp. vanilla
3 Tbsp. instant coffee, dissolved in
3 Tbsp. hot water
4 cups pecans
Set out butter or oleo to soften. Sift together flour, salt and baking powder. Grease a 10-inch tube pan. Separate eggs. Beat egg yolks well. Beat egg whites until stiff. In large mixing bowl, cream butter and brown sugar. Add egg yolks. Mix vanilla, coffee and milk together. Add alternately with dry ingredients. Fold in pecans and egg whites. Bake at 325 degrees for 1 1/2 hours. Let cool and remove from pan.
More Recipes For You To Enjoy: