This handwritten recipe was found in a large collection and includes a tip at the bottom for a fluffy textured meatball. Date unknown. I've typed the recipe out below along with a scanned copy.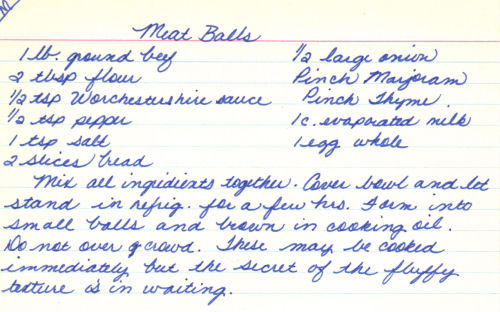 Meat Balls
1 lb. ground beef
2 tbsp flour
1/2 tsp Worcestershire sauce
1/2 tsp pepper
1 tsp salt
2 slices bread
1/2 large onion
Pinch Marjoram
Pinch Thyme
1 c. evaporated milk
1 egg whole
Mix all ingredients together. Cover bowl and let stand in refrig. for a few hrs. Form into small balls and brown in cooking oil. Do not over crowd. These may be cooked immediately but the secret of the fluffy texture is in waiting.
More Recipes For You To Enjoy: