This handwritten recipe card was found in a large collection, date unknown. I believe it's a cold side dish, maybe a salad? Or is it served as a dessert? I'm not sure, please fill me in if you know (comment section below). I've typed it out below along with a scanned copy.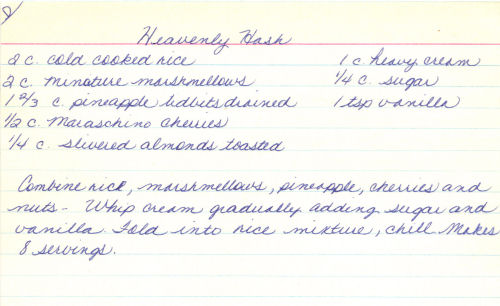 Heavenly Hash
2 c. cold cooked rice
2 c. miniature marshmallows
1 2/3 c. pineapple tidbits drained
1/2 c. maraschino cherries
1/4 c. slivered almonds toasted
1 c. heavy cream
1/4 c. sugar
1 tsp vanilla
Combine rice, marshmallows, pineapple, cherries and nuts. Whip cream gradually adding sugar and vanilla. Fold into rice mixture, chill. Makes 8 servings.
More Recipes For You To Enjoy: