This recipe was written on a lined index card and found in a large collection, date unknown. Recipe is typed below along with a scanned copy.
Chicken Casserole
Makes 6 to 8 servings
(Freeze casserole before or after baking)
1 stewing chicken, 3 1/2 lbs or larger
1 cup chopped celery
1 cup chopped walnuts, pecans or almonds
2 Tblsp. minced onion
1 (10 1/2 oz) can condensed cream of chicken soup
1 cup mayonnaise
2 Tbsp. lemon juice
3/4 tsp. salt
1/4 tsp. pepper
Fine buttered bread crumbs or crushed potato chips
Paprika
Steam chicken until very tender. Remove meat from bones and cut into bite size pieces.
Mix with remainder of ingredients except potato chips & paprika.
Turn chicken mixture into 2 qt. casserole.
Top with buttered breadcrumbs or crushed pot. chips.
Sprinkle with paprika.
Bake uncovered in moderate oven (350°) until bubbly about 30 min.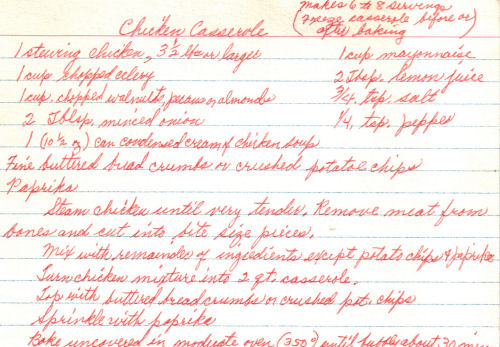 More Recipes For You To Enjoy: