This handwritten recipe was found in a large collection, date unknown. I've typed it out below (spelling corrected) along with a scanned copy.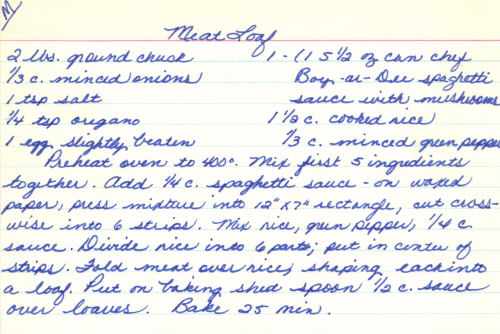 Meat Loaf
2 lbs. ground chuck
1/3 c. minced onions
1 tsp salt
1/4 tsp oregano
1 egg slightly beaten
1 – 15 1/2 oz can Chef Boyardee spaghetti sauce with mushrooms
1 1/2 c. cooked rice
1/3 c. minced green pepper
Preheat oven to 400°. Mix first 5 ingredients together. Add 1/4 c. spaghetti sauce – on waxed paper, press mixture into 12″x7″ rectangle, cut crosswise into 6 strips. Mix rice, green pepper, 1/4 c. sauce. Divide rice into 6 parts; put in center of strips. Fold meat over rice, shaping each into a loaf. Put on baking sheet, spoon 1/2 c. sauce over loaves. Bake 25 min.
More Recipes For You To Enjoy: