These recipes were written on a lined index card and found in a large collection, date unknown. One is for lemon squares and the other is a chocolate variation to the same recipe. I've typed both below along with scanned copies.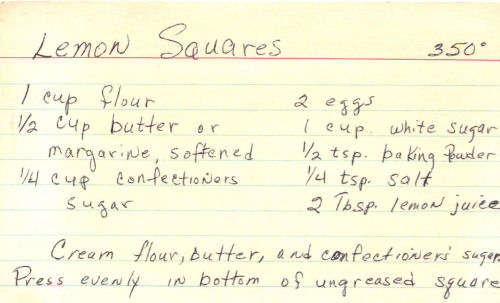 Lemon Squares
350°
1 cup flour
1/2 cup butter or margarine, softened
1/4 cup confectioners sugar
2 eggs
1 cup white sugar
1/2 tsp. baking powder
1/4 tsp. salt
2 Tbsp. lemon juice
Cream flour, butter, and confectioners sugar. Press evenly in bottom of ungreased square pan, 9x9x2 or 8x8x2. Bake 20 min. Beat remaining ingredients until light and fluffy, about 3 min. Pour over hot crust and bake about 25 min. longer or until no imprint remains when touched lightly in center. Cool and cut into 2″ squares. Makes 16.
Chocolate Squares
350°
Follow recipe for lemon squares except–decrease butter to 1/3 cup, omit lemon juice and add 1 square (1 oz) unsweetened chocolate, melted and cooled to beaten egg mixture.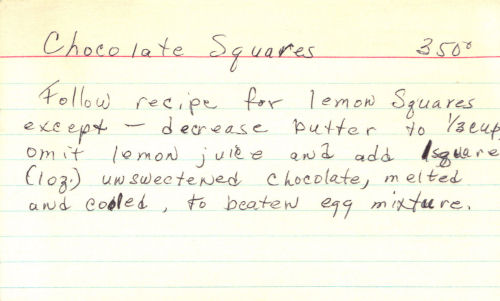 More Recipes For You To Enjoy: