This recipe was written on a white lined index card and found in a large collection of old recipes (up to year 1990). Date unknown. Recipe is typed in full below along with a scanned copy (front side only).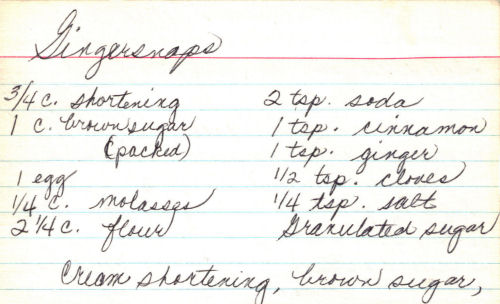 Gingersnaps
3/4 c. shortening
1 c. brown sugar (packed)
1 egg
1/4 c. molasses
2 1/4 c. flour
2 tsp. soda
1 tsp. cinnamon
1 tsp. ginger
1/2 tsp. cloves
1/4 tsp. salt
Granulated sugar
Cream shortening, brown sugar, egg and molasses. Mix in remaining ingredients except granulated sugar. Cover and chill 1 hr. Heat oven to 375°. Shape dough by rounded teaspoonfuls into balls. Dip tops in granulated sugar. Place balls sugared side up 3″ apart on lightly greased baking sheet. Bake 10 to 12 min. or just until set. Immediately remove from baking sheet. Makes 4 doz.
More Recipes For You To Enjoy: