This recipe was written on an index card and found in a large collection, date unknown. Recipe is typed below along with a scanned copy.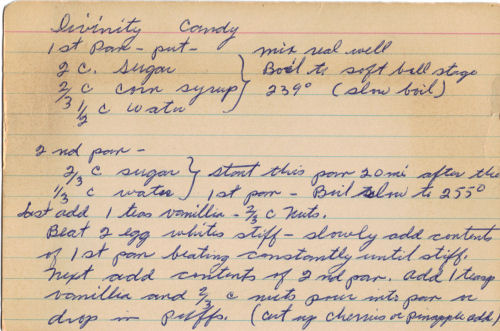 Divinity Candy
1st pan
(Mix real well; boil to soft ball stage 239° slow boil)
put – 2 c. sugar
2/3 c corn syrup
3 1/2 c water
2nd pan
Start this pan 20 mi after the 1st pan – boil slow to 255°
2/3 c sugar
1/3 c water
Last add 1 teas vanilla – 2/3 c nuts.
Beat 2 egg whites stiff – slowly add contents of 1st pan beating constantly until stiff.
Next add contents of 2nd pan. Add 1 teasp vanilla and 2/3 c nuts. Pour into pan or drop in puffs.
(cut up cherries or pineapple add)
More Recipes For You To Enjoy: