This recipe was written on a lined index card and found in a large collection, date unknown. I've typed it below along with a scanned copy.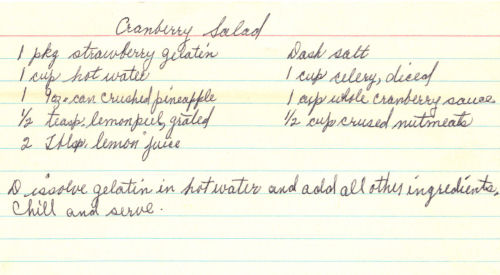 Cranberry Salad
1 pkg strawberry gelatin
1 cup hot water
1 9 oz. can crushed pineapple
1/2 teasp. lemon peel, grated
2 Tblsp. lemon juice
Dash salt
1 cup celery, diced
1 cup whole cranberry sauce
1/2 cup crushed nutmeats
Dissolve gelatin in hot water and add all other ingredients. Chill and serve.
More Recipes For You To Enjoy: