This recipe was written on an index card and found in a large collection, date unknown. Recipe is typed below along with a scanned copy.
Coconut Candy
Cream 1/2 cup butter, 1/2 c. brown sugar, add 1 c. flour.
Press into 8×8 pan (greased).
Bake at 350° for 20 min.
Beat 2 eggs until frothy – gradually stir in 1 c. brown sugar. Beat well.
Add 1 c. pecans & 1/2 c. coconut tossed with 2 Tbsp. flour, 1 tsp. vanilla and pinch of salt to egg mixture.
Spread over first mixture.
Bake again for 20 min. at 350°.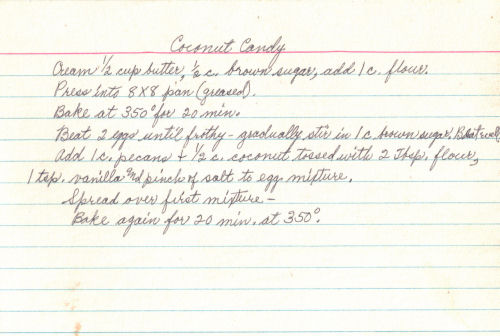 More Recipes For You To Enjoy: