This recipe was written on a lined index card and found in a large collection, date unknown. Recipe is typed below along with a scanned copy.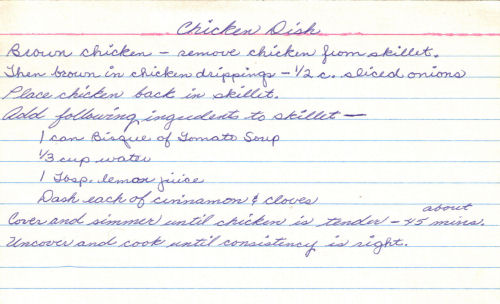 Chicken Dish
Brown chicken – remove chicken from skillet.
Then brown in chicken drippings – 1/2 c. sliced onions
Place chicken back in skillet.
Add following ingredients to skillet–
1 can Bisque of Tomato Soup
1/3 cup water
1 Tbsp. lemon juice
Dash each of cinnamon & cloves
Cover and simmer until chicken is tender – about 45 mins.
Uncover and cook until consistency is right.
More Recipes For You To Enjoy: