This recipe was written on a sheet of lined paper and found in a large collection, date unknown. Recipe is typed below along with a scanned copy.
Beef Chowder
Soup Season–
1 1/2 lbs. lean ground beef
1/2 c chopped celery
1/2 c " onion
1/3 c chopped green pepper
2 cans (10 1/2 oz each) Cream of Celery soup
2 cans 16 oz – tomatoes, cut up
1 can 17 oz – whole kernel corn
1/4 c snipped parsley
1/4 t. ground pepper
Cook beef, celery, onion & green pepper until meat browns. Drain, add remaining ing. & simmer, covered 30 min.
Serve over rice or noodles.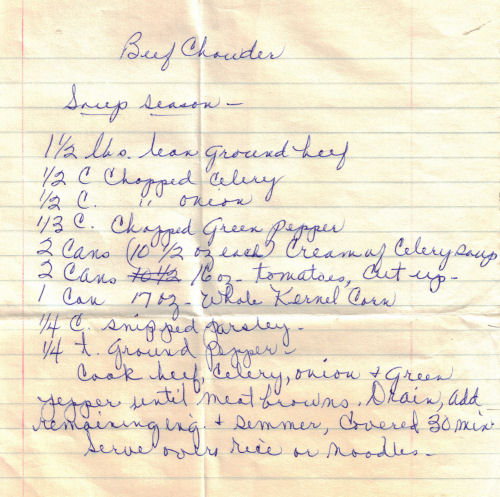 More Recipes For You To Enjoy: