This handwritten recipe card comes from a large collection, date unknown. One of the ingredients is "Hershey's Handi-Bake", I'm not familiar with that product so if you know what it is, please drop a note in the comments below (thank you). Recipe is typed below along with a scanned copy.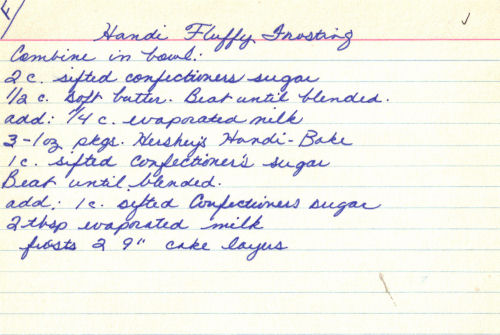 Handi Fluffy Frosting
Combine in bowl:
2 c. sifted confectioners sugar
1/2 c. soft butter. Beat until blended.
Add: 1/4 c. evaporated milk
3-1 oz pkgs. Hershey's Handi-Bake
1 c. sifted confectioner's sugar
Beat until blended.
Add: 1 c. sifted Confectioners sugar
2 tbsp evaporated milk
frosts 2 9″ cake layers
More Recipes For You To Enjoy: