This recipe was clipped from a magazine, date unknown. Recipe is typed below along with a scanned copy.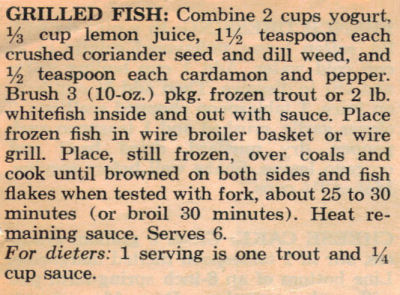 GRILLED FISH: Combine 2 cups yogurt, 1/3 cup lemon juice, 1 1/2 teaspoon each crushed coriander seed and dill weed, and 1/2 teaspoon each cardamom and pepper. Brush 3 (10-oz.) pkg. frozen trout or 2 lb. whitefish inside and out with sauce. Place frozen fish in wire broiler basket or wire grill. Place, still frozen, over coals and cook until browned on both sides and fish flakes when tested with fork, about 25 to 30 minutes (or broil 30 minutes). Heat remaining sauce. Serves 6.
For dieters: 1 serving is one trout and 1/4 cup sauce.
More Recipes For You To Enjoy: