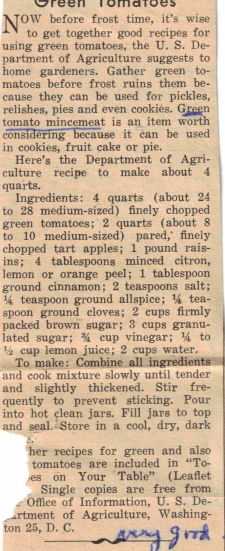 This is a recipe clipping from a newspaper found in a large collection of vintage recipe clippings, the person who saved this wrote "very good" on it, so it must be! Date is unknown but I believe this would be from the 1950s or so. Recipe is typed below along with a scanned copy.
Please make sure to read Important: Safe Canning & Food Preservation before using this recipe.
Green Tomatoes
NOW before frost time, it's wise to get together good recipes for using green tomatoes, the U. S. Department of Agriculture suggests to home gardeners. Gather green tomatoes before frost ruins them because they can be used for pickles, relishes, pies and even cookies. Green tomato mincemeat is an item worth considering because it can be used in cookies, fruit cake or pie.
Here's the Department of Agriculture recipe to make about 4 quarts.
Ingredients: 4 quarts (about 24 to 28 medium-sized) finely chopped green tomatoes; 2 quarts (about 8 to 10 medium-sized) pared, finely chopped tart apples; 1 pound raisins; 4 tablespoons minced citron, lemon or orange peel; 1 tablespoon ground cinnamon; 2 teaspoons salt; 1/4 teaspoon ground allspice; 1/4 teaspoon ground cloves; 2 cups firmly packed brown sugar; 3 cups granulated sugar; 3/4 cup vinegar; 1/4 to 1/2 cup lemon juice; 2 cups water.
To make: Combine all ingredients and cook mixture slowly until tender and slightly thickened. Stir frequently to prevent sticking. Pour into hot clean jars. Fill jars to top and seal. Store in a cool, dry, dark place.
More Recipes For You To Enjoy: