This recipe was clipped from a newspaper, date unknown. Recipe is typed below along with a scanned copy.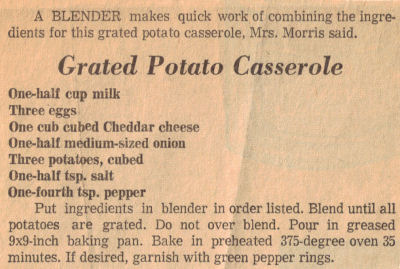 A BLENDER makes quick work of combining the ingredients for this grated potato casserole, Mrs. Morris said.
Grated Potato Casserole
One-half cup milk
Three eggs
One cup cubed Cheddar cheese
One-half medium-sized onion
Three potatoes, cubed
One-half tsp. salt
One-fourth tsp. pepper
Put ingredients in blender in order listed. Blend until all potatoes are grated. Do not over blend. Pour in greased 9×9-inch baking pan. Bake in preheated 375-degree oven 35 minutes. If desired, garnish with green pepper rings.
More Recipes For You To Enjoy: