This is a recipe clipped from a box of Post's Grape-Nuts cereal and found in a large collection of recipes. There's no date on the clipping but it does say it's one of the most popular recipes of theirs in the past 60 years. Grape-Nuts was on the market in the late 1800's (1897), so that would date this recipe to the late 1950s or early 1960's. Recipe is typed below along with a scanned copy.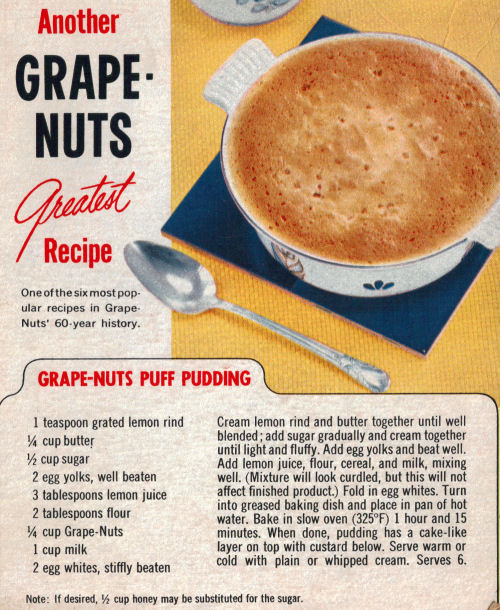 Another GRAPE-NUTS Greatest Recipe
One of the six most popular recipes in Grape-Nuts' 60-year history.
GRAPE-NUTS PUFF PUDDING
1 teaspoon grated lemon rind
1/4 cup butter
1/2 cup sugar
2 egg yolks, well beaten
3 tablespoons lemon juice
2 tablespoons flour
1/4 cup Grape-Nuts
1 cup milk
2 egg whites, stiffly beaten
Cream lemon rind and butter together until well blended; add sugar gradually and cream together until light and fluffy. Add egg yolks and beat well. Add lemon juice, flour, cereal, and milk, mixing well. (Mixture will look curdled, but this will not affect finished product.) Fold in egg whites. Turn into greased baking dish and place in pan of hot water. Bake in slow oven (325°F) 1 hour and 15 minutes. When done, pudding has a cake-like layer on top with custard below. Serve warm or cold with plain or whipped cream. Serves 6.
Note: If desired, 1/2 cup honey may be substituted for the sugar.
More Recipes For You To Enjoy: