This is a recipe clipped from a box of Post's Grape-Nuts cereal and found in a large collection of recipes. There's no date on the clipping but it does say it's one of the most popular recipes of theirs in the past 60 years. Grape-Nuts was on the market in the late 1800's (1897), so that would date this recipe to the late 1950s or early 1960's. Recipe is typed below along with a scanned copy (I have two different clippings for this so I included scans of both).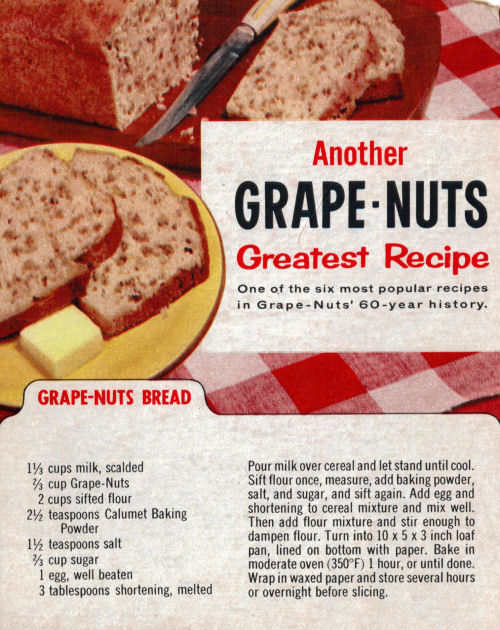 Another
GRAPE-NUTS
Greatest Recipe
One of the six most popular recipes in Grape-Nuts' 60-year history.
GRAPE-NUTS BREAD
1 1/3 cups milk, scalded
2/3 cup Grape-Nuts
2 cups sifted flour
2 1/2 teaspoons Calumet Baking Powder
1 1/2 teaspoons salt
2/3 cup sugar
1 egg, well beaten
3 tablespoons shortening, melted
Pour milk over cereal and let stand until cool. Sift flour once, measure, add baking powder, salt, and sugar, and sift again. Add egg and shortening to cereal mixture and mix well. Then add flour mixture and stir enough to dampen flour. Turn into 10 x 5 x 3 inch loaf pan, lined on bottom with paper. Bake in moderate oven (350°F) 1 hour, or until done. Wrap in waxed paper and store several hours or overnight before slicing.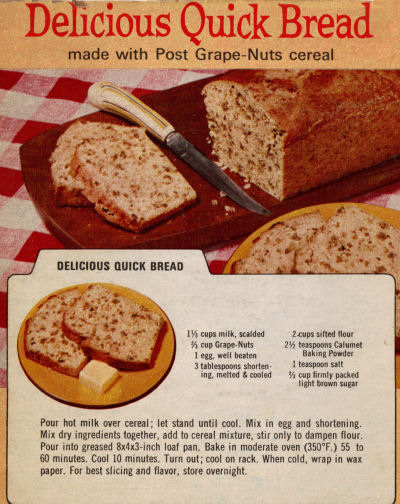 More Recipes For You To Enjoy: