This recipe was clipped from a magazine and found in a large collection, date unknown. Recipe is typed below along with a scanned copy.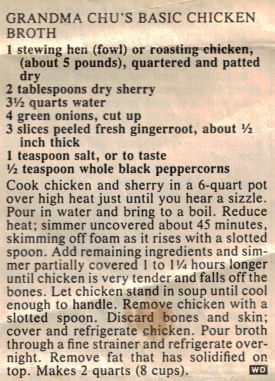 GRANDMA CHU'S BASIC CHICKEN BROTH
1 stewing hen (fowl) or roasting chicken, (about 5 pounds), quartered and patted dry
2 tablespoons dry sherry
3 1/2 quarts water
4 green onions, cut up
3 slices peeled fresh gingerroot, about 1/2 inch thick
1 teaspoon salt, or to taste
1/2 teaspoon whole black peppercorns
Cook chicken and sherry in a 6-quart pot over high heat just until you hear a sizzle. Pour in water and bring to a boil. Reduce heat; simmer uncovered about 45 minutes, skimming off foam as it rises with a slotted spoon. Add remaining ingredients and simmer partially covered 1 to 1 1/4 hours longer until chicken is very tender and falls off the bones. Let chicken stand in soup until cool enough to handle. Remove chicken with a slotted spoon. Discard bones and skin; cover and refrigerate chicken. Pour broth through a fine strainer and refrigerate overnight. Remove fat that has solidified on top. Makes 2 quarts (8 cups).
More Recipes For You To Enjoy: