This is part of a promo recipe folder by Campbell Soup Company that was published in 1993, it looks like a magazine pull-out. Recipe is typed below along with a scanned copy.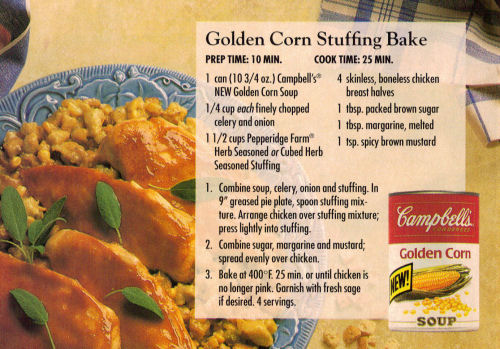 Golden Corn Stuffing Bake
PREP TIME: 10 MIN.
COOK TIME: 25 MIN.
1 can (10 3/4 oz.) Campbell's NEW Golden Corn Soup
1/4 cup each finely chopped celery and onion
1 1/2 cups Pepperidge Farm Herb Seasoned or Cubed Herb Seasoned Stuffing
4 skinless, boneless chicken breast halves
1 tbsp. packed brown sugar
1 tbsp. margarine, melted
1 tsp. spicy brown mustard
Combine soup, celery, onion and stuffing. In 9″ greased pie plate, spoon stuffing mixture. Arrange chicken over stuffing mixture; press lightly into stuffing.
Combine sugar, margarine and mustard; spread evenly over chicken.
Bake at 400°F. 25 min. or until chicken is no longer pink. Garnish with fresh sage if desired. 4 servings.
More Recipes For You To Enjoy: