This old recipe was clipped from a magazine and found in a large collection. Date is unknown but judging by the pictures on the back, I'd say 1950's or so. Recipe is typed below along with a scanned copy.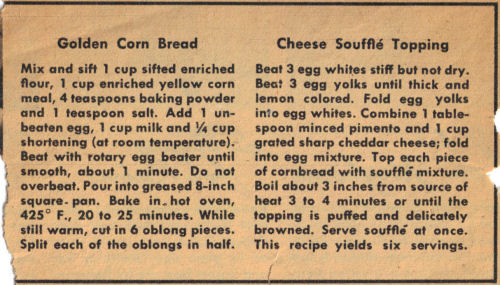 Golden Corn Bread
Mix and sift 1 cup sifted enriched flour, 1 cup enriched yellow corn meal, 4 teaspoons baking powder and 1 teaspoon salt. Add 1 unbeaten egg, 1 cup milk and 1/4 cup shortening (at room temperature). Beat with rotary egg beater until smooth, about 1 minute. Do not overbeat. Pour into greased 8-inch square pan. Bake in hot oven, 425° F., 20 to 25 minutes. While still warm, cut in 6 oblong pieces. Split each of the oblongs in half.
Cheese Souffle Topping
Beat 3 egg whites stiff but not dry. Beat 3 egg yolks until thick and lemon colored. Fold egg yolks into egg whites. Combine 1 tablespoon minced pimento and 1 cup grated sharp cheddar cheese; fold into egg mixture. Top each piece of cornbread with souffle mixture. Boil about 3 inches from source of heat 3 to 4 minutes or until the topping is puffed and delicately browned. Serve souffle at once.
This recipe yields six servings.
More Recipes For You To Enjoy: