This is a full page recipe magazine advertisement for Campbell's Soup published in 1963. Recipe is typed in full below along with a scanned copy that you can click to view larger.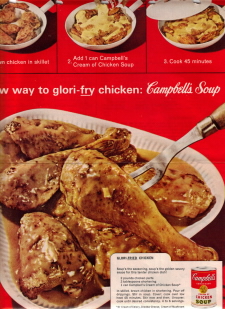 Brown chicken in skillet
Add 1 can Campbell's Cream of Chicken Soup
Cook 45 minutes
New way to glori-fry chicken: Campbell's Soup
GLORI-FRIED CHICKEN
Soup's the seasoning, soup's the golden savory sauce for this tender chicken dish!
2 pounds chicken parts
2 tablespoons shortening
1 can Campbell's Cream of Chicken Soup*
In skillet, brown chicken in shortening. Pour off drippings. Stir in soup. Cover; cook over low heat 45 minutes. Stir now and then. Uncover; cook until desired consistency. 4 to 6 servings.
*Or Cream of Celery, Cheddar Cheese, Cream of Mushroom
More Recipes For You To Enjoy: