This is a recipe clipped from a sheet of paper or packaging of some kind, date unknown. The recipe is typed below along with a scanned copy.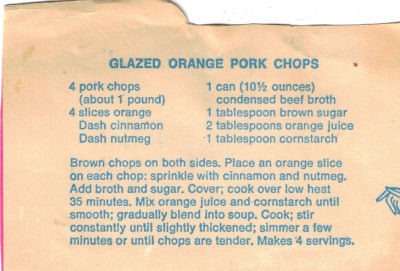 GLAZED ORANGE PORK CHOPS
4 pork chops (about 1 pound)
4 slices orange
Dash cinnamon
Dash nutmeg
1 can (10 1/2 ounces) condensed beef broth
1 tablespoon brown sugar
2 tablespoons orange juice
1 tablespoon cornstarch
Brown chops on both sides. Place an orange slice on each chop: sprinkle with cinnamon and nutmeg. Add broth and sugar. Cover; cook over low heat 35 minutes. Mix orange juice and cornstarch until smooth; gradually blend into soup. Cook; stir constantly until slightly thickened; simmer a few minutes or until chops are tender. Makes 4 servings.
More Recipes For You To Enjoy: