This recipe was clipped from a magazine or newspaper then pasted onto a white index card. Date unknown but the recipes in this collection were mainly from the 1940s through the 1960s. Recipe is typed below along with a scanned copy.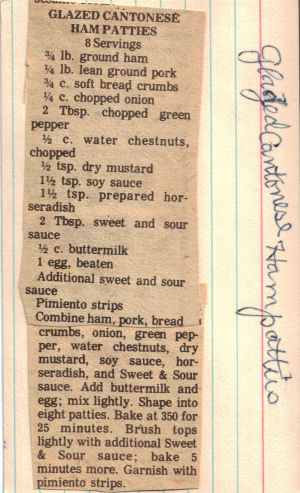 GLAZED CANTONESE HAM PATTIES
8 Servings
3/4 lb. ground ham
1/4 lb. lean ground pork
3/4 c. soft bread crumbs
1/4 c. chopped onion
2 Tbsp. chopped green pepper
1/2 c. water chestnuts, chopped
1/2 tsp. dry mustard
1 1/2 tsp. soy sauce
1 1/2 tsp.prepared horseradish
2 Tbsp. sweet and sour sauce
1/2 c. buttermilk
1 egg, beaten
Additional sweet and sour sauce
Pimiento strips
Combine ham, pork, bread crumbs, onion, green pepper, water chestnuts, dry mustard, soy sauce, horseradish, and Sweet & Sour sauce. Add buttermilk and egg; mix lightly. Shape into eight patties. Bake at 350 for 25 minutes. Brush tops lightly with additional Sweet & Sour sauce; bake 5 minutes more. Garnish with pimiento strips.
More Recipes For You To Enjoy: