This promo recipe from Crisco was clipped from a label, likely from a can of Crisco. It was found in a large collection, date unknown. I've typed it below along with a scanned copy.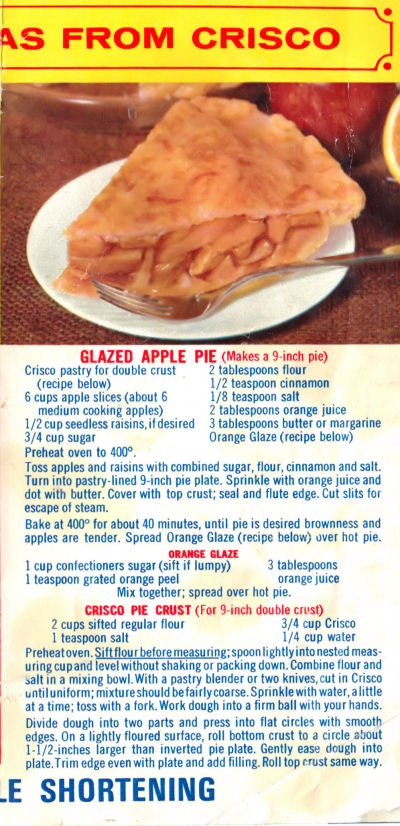 GLAZED APPLE PIE
(Makes a 9-inch pie)
Crisco pastry for double crust (recipe below)
6 cups apple slices (about 6 medium cooking apples)
1/2 cup seedless raisins, if desired
3/4 cup sugar
2 tablespoons flour
1/2 teaspoon cinnamon
1/8 teaspoon salt
2 tablespoons orange juice
3 tablespoons butter or margarine
Orange Glaze (recipe below)
Preheat oven to 400°.
Toss apples and raisins with combined sugar, flour, cinnamon and salt. Turn into pastry-lined 9-inch pie plate. Sprinkle with orange juice and dot with butter. Cover with top crust; seal and flute edge. Cut slits for escape of steam.
Bake at 400° for about 40 minutes, until pie is desired brownness and apples are tender. Spread Orange Glaze (recipe below) over hot pie.
ORANGE GLAZE
1 cup confectioners sugar (sift if lumpy)
1 teaspoon grated orange peel
3 tablespoons orange juice
Mix together; spread over hot pie.
CRISCO PIE CRUST
(For 9-inch double crust)
2 cups sifted regular flour
1 teaspoon salt
3/4 cup Crisco
1/4 cup water
Preheat oven. Sift flour before measuring; spoon lightly into nested measuring cup and level without shaking or packing down. Combine flour and salt in a mixing bowl. With a pastry blender or two knives, cut in Crisco until uniform; mixture should be fairly coarse. Sprinkle with water, a little at a time; toss with a fork. Work dough into a firm ball with your hands.
Divide dough into two parts and press into flat circles with smooth edges. On a lightly floured surface, roll bottom crust to a circle about 1-1/2-inches larger than inverted pie plate. Gently ease dough into plate. Trim edge even with plate and add filling. Roll top crust same way.
More Recipes For You To Enjoy: