This promo recipe was clipped from cardboard packaging, likely a box of Royal Peach Gelatin since it's one of the required ingredients. This was found in a large collection, date unknown. I've typed it below along with a scanned copy.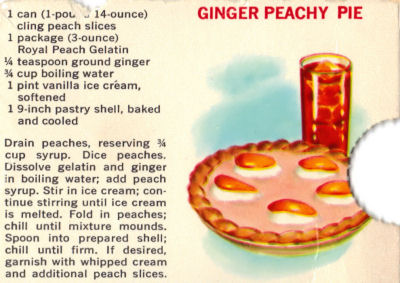 GINGER PEACHY PIE
1 can (1-pound 14-ounce) cling peach slices
1 package (3-ounce) Royal Peach Gelatin
1/4 teaspoon ground ginger
3/4 cup boiling water
1 pint vanilla ice cream, softened
1 9-inch pastry shell, baked and cooled
Drain peaches, reserving 3/4 cup syrup. Dice peaches. Dissolve gelatin and ginger in boiling water; add peach syrup. Stir in ice cream; continue stirring until ice cream is melted. Fold in peaches; chill until mixture mounds. Spoon into prepared shell; chill until firm. If desired, garnish with whipped cream and additional peach slices.
More Recipes For You To Enjoy: