This recipe was clipped from a magazine and found in a large collection, date unknown. Recipe is typed below along with a scanned copy.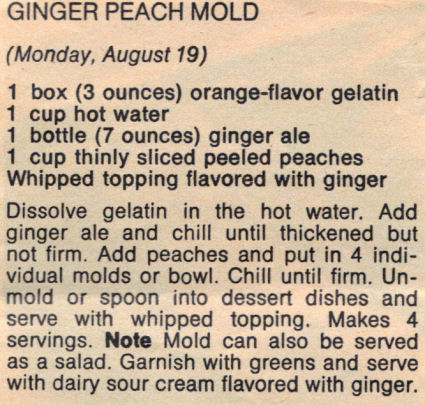 GINGER PEACH MOLD
(Monday, August 19)
1 box (3 ounces) orange-flavor gelatin
1 cup hot water
1 bottle (7 ounces) ginger ale
1 cup thinly sliced peeled peaches
Whipped topping flavored with ginger
Dissolve gelatin in the hot water. Add ginger ale and chill until thickened but not firm. Add peaches and put in 4 individual molds or bowl. Chill until firm. Unmold or spoon into dessert dishes and serve with whipped topping. Makes 4 servings. Note Mold can also be served as a salad. Garnish with greens and serve with dairy sour cream flavored with ginger.
More Recipes For You To Enjoy: