This recipe for Ginger Creams Cookies comes from a holiday baking sheet titled "Celebrate the Season with Holiday Treats". This was a promo piece featuring a variety of brands: Nestle Chocolate, Sun-Maid Raisins, Peter Pan Peanut Butter, Grandma's Molasses and Gold Medal Flour. Date unknown. Recipe is typed below along with a scanned copy of the recipe and a scan of the cover (at the bottom).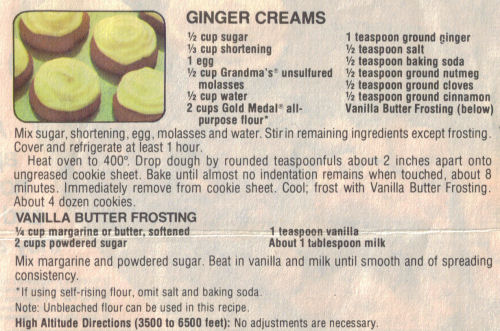 GINGER CREAMS
1/2 cup sugar
1/3 cup shortening
1 egg
1/2 cup Grandma's unsulfured molasses
1/2 cup water
2 cups Gold Medal all-purpose flour*
1 teaspoon ground ginger
1/2 teaspoon salt
1/2 teaspoon baking soda
1/2 teaspoon ground nutmeg
1/2 teaspoon ground cloves
1/2 teaspoon ground cinnamon
Vanilla Butter Frosting (below)
Mix sugar, shortening, egg, molasses and water. Stir in remaining ingredients except frosting. Cover and refrigerate at least 1 hour.
Heat oven to 400°. Drop dough by rounded teaspoonfuls about 2 inches apart onto ungreased cookie sheet. Bake until almost no indentation remains when touched, about 8 minutes. Immediately remove from cookie sheet. Cool; frost with Vanilla Butter Frosting. About 4 dozen cookies.
VANILLA BUTTER FROSTING
1/4 cup margarine or butter, softened
2 cups powdered sugar
1 teaspoon vanilla
About 1 tablespoon milk
Mix margarine and powdered sugar. Beat in vanilla and milk until smooth and of spreading consistency.
*If using self-rising flour, omit salt and baking soda.
Note: Unbleached flour can be used in this recipe.
High Altitude Directions (3500 to 6500 feet): No adjustments are necessary.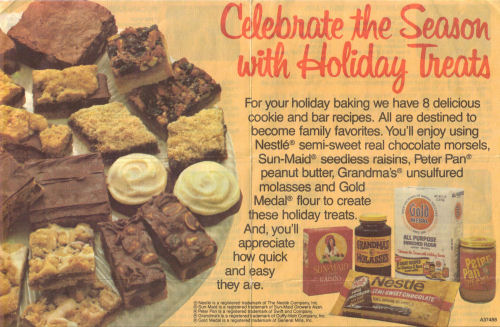 More Recipes For You To Enjoy: