This recipe is undated and was clipped from a newspaper, I would guess this is from the 1970's based on the information on the back. Recipe is typed below along with a scanned copy.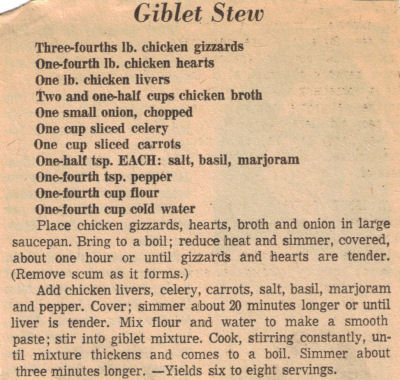 Giblet Stew
Three-fourths lb. chicken gizzards
One-fourth lb. chicken hearts
One lb. chicken livers
Two and one-half cups chicken broth
One small onion, chopped
One cup sliced celery
One cup sliced carrots
One-half tsp. EACH: salt, basil, marjoram
One-fourth tsp. pepper
One-fourth cup flour
One-fourth cup cold water
Place chicken gizzards, hearts, broth and onion in large saucepan. Bring to a boil; reduce heat and simmer, covered, about one hour or until gizzards and hearts are tender. (Remove scum as it forms.)
Add chicken livers, celery, carrots, salt, basil, marjoram and pepper. Cover; simmer about 20 minutes longer or until liver is tender. Mix flour and water to make a smooth paste; stir into giblet mixture. Cook, stirring constantly, until mixture thickens and comes to a boil. Simmer about three minutes longer.–Yields six to eight servings.
More Recipes For You To Enjoy: