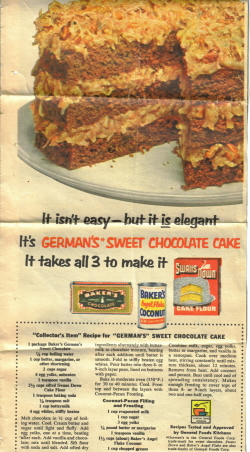 This is a promotional advertisement recipe clipping from a magazine, date unknown. There is an ad on the back for a girdle, I would guess this is from the 1970s. The ad appears to be a full left half of the magazine page.
It isn't easy–but it is elegant
It's GERMAN'S* SWEET CHOCOLATE CAKE
It takes all 3 to make it
(RecipeCurio Note: shows pictures of BAKER'S CHOCOLATE, BAKER'S ANGEL FLAKE COCONUT & SWANS DOWN CAKE FLOUR)
"Collector's Item" Recipe for "GERMAN'S" SWEET CHOCOLATE CAKE
1 package Baker's German's Sweet Chocolate
1/2 cup boiling water
1 cup butter, margarine, or other shortening
2 cups sugar
4 egg yolks, unbeaten
1 teaspoon vanilla
2 1/2 cups sifted Swans Down Cake Flour
1 teaspoon baking soda
1/2 teaspoon salt
1 cup buttermilk
4 egg whites, stiffly beaten
Melt chocolate in 1/2 cup of boiling water. Cool. Cream butter and sugar until light and fluffy. Add egg yolks, one at a time, beating after each. Add vanilla and chocolate; mix until blended. Sift flour with soda and salt. Add sifted dry ingredients alternately with buttermilk to chocolate mixture, beating after each addition until batter is smooth. Fold in stiffly beaten egg whites. Pour batter into three 8- or 9-inch layer pans, lined on bottoms with paper.
Bake in moderate oven (350° F.) for 30 to 40 minutes. Cool. Frost top and between the layers with Coconut-Pecan Frosting.
Coconut-Pecan Filling and Frosting
1 cup evaporated milk
1 cup sugar
3 egg yolks
1/4 pound butter or margarine
1 teaspoon vanilla
1 1/3 cups (about) Baker's Angel Flake Coconut
1 cup chopped pecans
Combine milk, sugar, egg yolks, butter or margarine, and vanilla in a saucepan. Cook over medium heat, stirring constantly until mixture thickens, about 12 minutes. Remove from heat. Add coconut and pecans. Beat until cool and of spreading consistency. Makes enough frosting to cover tops of three 8-or 9-inch layers, about two and one-half cups.
Recipes Tested and Approved
by General Foods Kitchens
*German's is the General Foods Corp. trade-mark for sweet chocolate. Swans Down and Baker's Angel Flake are also trade-marks of General Foods Corp.
More Recipes For You To Enjoy: