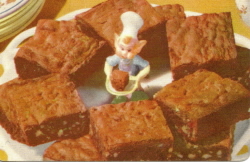 This is from a set of vintage recipe cards dated 1961 and distributed by Lestoil's Convenience Products, Holyoke, Mass. The card measures 2 1/4″ x 3 1/2″ (approx). This one has a little elf character with a chef hat, similar to Kellogg's Rice Krispie character.
Fudgies
3/4 cup sifted cake flour
1/2 tsp. baking powder
1/4 tsp. salt
1 egg, well beaten
1 cup sugar
1/4 cup melted butter
2 sq. (1 oz. ea.) unsweetened chocolate, melted
2 Tbsp. water
1/2 tsp. vanilla
3/4 cup chopped walnuts
Sift together flour and next 2 ingredients. Beat egg with sugar; add next 4 ingredients. Stir in dry ingredients and nuts. Turn into greased 8″ square pan. Bake at 325° for 25 minutes. Cut into 16 squares.
LESTOIL'S Convenience Products
Holyoke, Mass.
c. 1961 Tested Recipe Institute, Inc., 500 Fifth Ave., New York 36
More Recipes For You To Enjoy: