This recipe was clipped from a newspaper, date unknown. Recipe is typed below along with a scanned copy.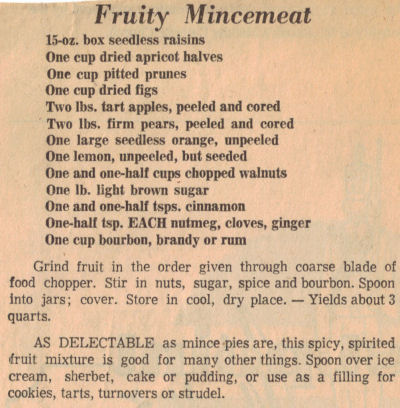 Fruity Mincemeat
15-oz. box seedless raisins
One cup dried apricot halves
One cup pitted prunes
One cup dried figs
Two lbs. tart apples, peeled and cored
Two lbs. firm pears, peeled and cored
One large seedless orange, unpeeled
One lemon, unpeeled, but seeded
One and one-half cups chopped walnuts
One lb. light brown sugar
One and one-half tsps. cinnamon
One-half tsp. EACH nutmeg, cloves, ginger
One cup bourbon, brandy or rum
Grind fruit in the order given through coarse blade of food chopper. Stir in nuts, sugar, spice and bourbon. Spoon into jars; cover. Store in cool, dry place.–Yields about 3 quarts.
AS DELECTABLE as mince pies are, this spicy, spirited fruit mixture is good for many other things. Spoon over ice cream, sherbet, cake or pudding, or use as a filling for cookies, tarts, turnovers or strudel.
More Recipes For You To Enjoy: