This is a recipe pullout from Family Circle magazine, date unknown. I've typed it below along with a scanned copy (both sides).
FRUITED WINE MOLD
Makes 8 servings
3 envelopes unflavored gelatin
1/3 cup sugar
2 cups water
2 tablespoons lemon juice
1 bottle (3 1/4 cups or 750 ml.) rose wine
1 cup halved green grapes
1 cup halved strawberries
1 large orange, pared, sectioned and cut into small pieces
Orange Sour Cream Dressing (recipe follows)
Combine gelatin and sugar in a small saucepan; stir in 1 cup of the water. Heat and stir over low heat until gelatin is dissolved. Remove from heat; stir in remaining water and lemon juice. Pour into a large bowl; add wine. Chill until partially set, about 1 hour.
Fold in grapes, strawberries and orange. Pour into a 7-cup mold. Chill about 4 hours or until firm.
Dip mold quickly into warm water; invert onto serving platter; shake gently to unmold. Serve with Orange Sour Cream Dressing.
ORANGE SOUR CREAM DRESSING: Combine 1 teaspoon grated orange rind, 2 tablespoons orange juice, 1 cup dairy sour cream, 2 tablespoons honey and 1/4 teaspoon ground ginger in a small bowl. Chill well.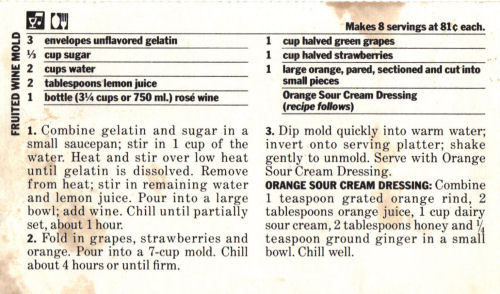 More Recipes For You To Enjoy: