This recipe was typed onto an index card and found in a large collection, date unknown. Recipe is typed below along with a scanned copy.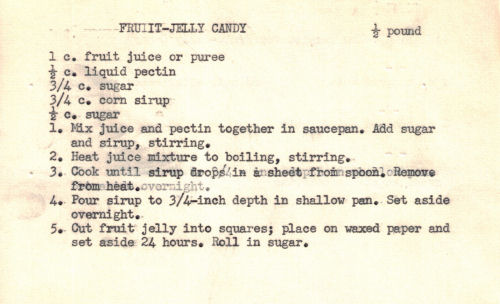 FRUIT-JELLY CANDY
1/2 pound
1 c. fruit juice or puree
1/2 c. liquid pectin
3/4 c. sugar
3/4 c. corn sirup
1/2 c. sugar
Mix juice and pectin together in saucepan. Add sugar and sirup, stirring.
Heat juice mixture to boiling, stirring.
Cook until sirup drops in a sheet from spoon. Remove from heat.
Pour sirup to 3/4-inch depth in shallow pan. Set aside overnight.
Cut fruit jelly into squares; place on waxed paper and set aside 24 hours. Roll in sugar.
VARIATIONS: Use receipt for Fruit-Jelly Candy
1: 1/4 c. chopped nuts; Add nuts after removing from heat.
2: 1 c. chopped dried fruit; Add fruit after removing from heat.
3: Peppermint flavoring and green vegetable coloring; Add after removing from heat.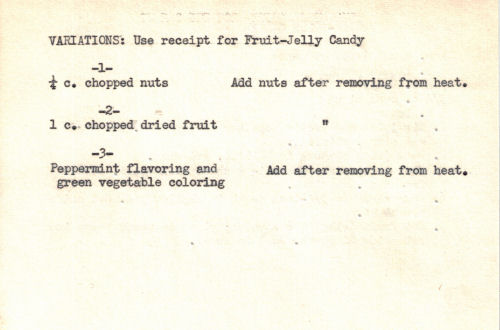 More Recipes For You To Enjoy: