This recipe was clipped from a newspaper and found in a large collection, date unknown. I've typed it below along with a scanned copy.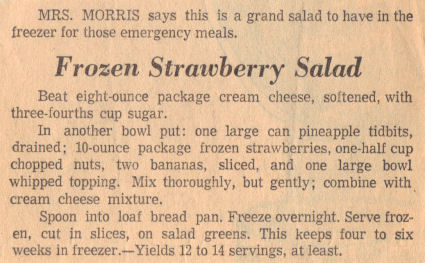 MRS. MORRIS says this is a grand salad to have in the freezer for those emergency meals.
Frozen Strawberry Salad
Beat eight-ounce package cream cheese, softened, with three-fourths cup sugar.
In another bowl put: one large can pineapple tidbits, drained; 10-ounce package frozen strawberries, one-half cup chopped nuts, two bananas, sliced, and one large bowl whipped topping. Mix thoroughly, but gently; combine with cream cheese mixture.
Spoon into loaf bread pan. Freeze overnight. Serve frozen, cut in slices, on salad greens. This keeps four to six weeks in freezer.
Yields 12 to 14 servings, at least.
More Recipes For You To Enjoy: