This recipe was clipped from a newspaper and found in a large collection, date unknown. I've typed it below along with a scanned copy.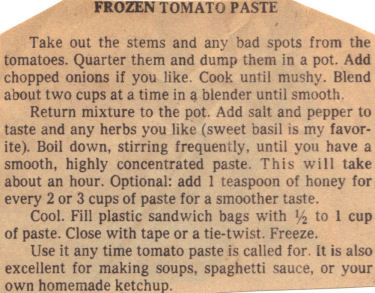 FROZEN TOMATO PASTE
Take out the stems and any bad spots from the tomatoes. Quarter them and dump them in a pot. Add chopped onions if you like. Cook until mushy. Blend about two cups at a time in a blender until smooth.
Return mixture to the pot. Add salt and pepper to taste and any herbs you like (sweet basil is my favorite). Boil down, stirring frequently, until you have a smooth, highly concentrated paste. This will take about an hour. Optional: add 1 teaspoon of honey for every 2 or 3 cups of paste for a smoother taste.
Cool. Fill plastic sandwich bags with 1/2 to 1 cup of paste. Close with tape or a tie-twist. Freeze.
Use it any time tomato paste is called for. It is also excellent for making soups, spaghetti sauce, or your own homemade ketchup.
More Recipes For You To Enjoy: