This is a promo recipe slip from Kroger that was found in a large collection, date unknown. I've typed it out below along with a scanned copy.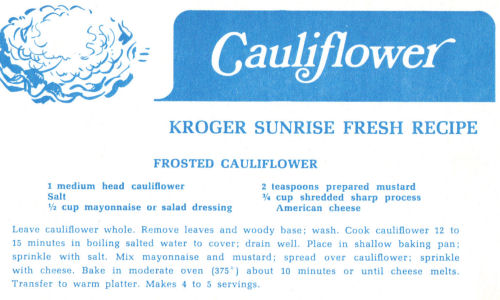 Cauliflower
KROGER SUNRISE FRESH RECIPE
FROSTED CAULIFLOWER
1 medium head cauliflower
Salt
1/2 cup mayonnaise or salad dressing
2 teaspoons prepared mustard
3/4 cup shredded sharp process American cheese
Leave cauliflower whole. Remove leaves and woody base; wash. Cook cauliflower 12 to 15 minutes in boiling salted water to cover; drain well. Place in shallow baking pan; sprinkle with salt. Mix mayonnaise and mustard; spread over cauliflower; sprinkle with cheese. Bake in moderate oven (375°) about 10 minutes or until cheese melts. Transfer to warm platter. Makes 4 to 5 servings.
More Recipes For You To Enjoy: