This recipe was clipped from the Successful Farming Magazine and was published in 1955, it was found in a large collection. I've typed it below along with a scanned copy.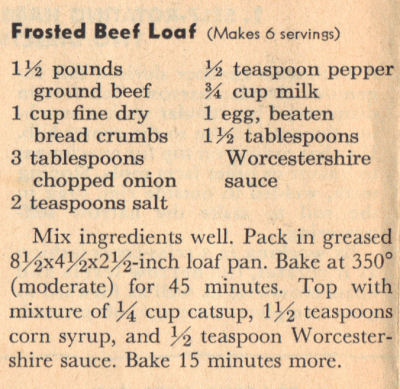 Frosted Beef Loaf
(Makes 6 servings)
1 1/2 pounds ground beef
1 cup fine dry bread crumbs
3 tablespoons chopped onion
2 teaspoons salt
1/2 teaspoon pepper
3/4 cup milk
1 egg, beaten
1 1/2 tablespoons Worcestershire sauce
Mix ingredients well. Pack in greased 8-1/2×4-1/2×2-1/2 inch loaf pan. Bake at 350° (moderate) for 45 minutes. Top with mixture of 1/4 cup catsup, 1 1/2 teaspoons corn syrup, and 1/2 teaspoon Worcestershire sauce. Bake 15 minutes more.
More Recipes For You To Enjoy: