This recipe was clipped from a newspaper, date unknown. Recipe is typed below along with a scanned copy.
Fresh tomato soup
4 tbsp. butter
1 tbsp. peanut or salad oil
1 medium onion
3 tbsp. flour
6 large ripe tomatoes, concassed (peeled, seeded and chopped)
4 cups boiling water
1 large bay leaf
3 sprigs parsley
2 sprigs fresh thyme or 1 tsp. dried
Salt and freshly ground pepper
Croutons
Heat two tablespoons butter and the oil in large, heavy saucepan. Cook onion, stirring constantly, until soft and golden.
Add the flour, stirring constantly, and cook until golden but not brown. Add the tomatoes and water.
Tie bay leaf, parsley and thyme in a bouquet garni or a cheesecloth bag. Add to tomatoes. Season with salt and pepper.
Simmer, covered, over low heat 30 minutes. Remove bouquet garni and stir in the remaining butter. Serve in a heated tureen with croutons. Makes four servings.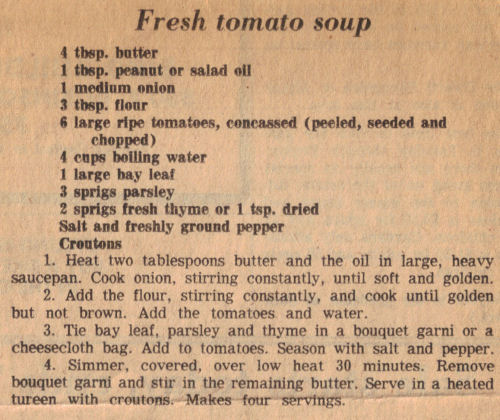 More Recipes For You To Enjoy: