This is a promo recipe sheet from Pillsbury that was found in a large collection, date unknown. I've typed it below along with a scanned copy.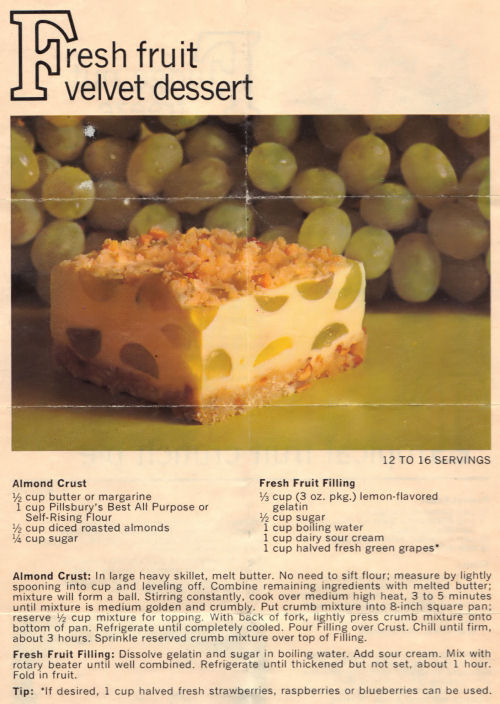 Fresh Fruit Velvet Dessert
12 TO 16 SERVINGS
Almond Crust
1/2 cup butter or margarine
1 cup Pillsbury's Best All Purpose or Self-Rising Flour
1/2 cup diced roasted almonds
1/4 cup sugar
Fresh Fruit Filling
1/3 cup (3 oz. pkg.) lemon-flavored gelatin
1/2 cup sugar
1 cup boiling water
1 cup dairy sour cream
1 cup halved fresh green grapes*
Almond Crust: In large heavy skillet, melt butter. No need to sift flour; measure by lightly spooning into cup and leveling off. Combine remaining ingredients with melted butter; mixture will form a ball. Stirring constantly, cook over medium high heat, 3 to 5 minutes until mixture is medium golden and crumbly. Put crumb mixture into 8-inch square pan; reserve 1/2 cup mixture for topping. With back of fork, lightly press crumb mixture onto bottom of pan. Refrigerate until completely cooled. Pour Filling over Crust. Chill until firm, about 3 hours. Sprinkle reserved crumb mixture over top of Filling.
Fresh Fruit Filling: Dissolve gelatin and sugar in boiling water. Add sour cream. Mix with rotary beater until well combined. Refrigerate until thickened but not set, about 1 hour. Fold in fruit.
Tip: *If desired, 1 cup halved fresh strawberries, raspberries or blueberries can be used.
More Recipes For You To Enjoy: