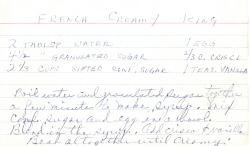 This is a handwritten recipe on an index card, no date. Found in a recipe tin box purchased at auction. Recipe is typed as is for the most part, small adjustments made for readability issues.
French Creamy Icing
2 Tablsp. Water
4 1/2 Tablsp. Granulated Sugar
2 1/3 cups sifted Conf. Sugar
1 Egg
2/3 c. Crisco
1 Teas. Vanilla
Boil water and granulated sugar together a few minutes to make syrup. Mix conf. sugar and egg in a bowl. Blend in the syrup. Add crisco & vanilla. Beat altogether until creamy.
More Recipes For You To Enjoy: