This recipe was clipped from a newspaper and found in a large collection, date unknown. I've typed it below along with a scanned copy.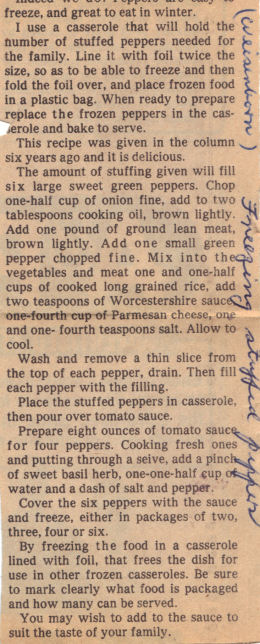 Freezing Stuffed Peppers
Peppers are easy to freeze, and great to eat in winter.
I use a casserole that will hold the number of stuffed peppers needed for the family. Line it with foil twice the size, so as to be able to freeze and then fold the foil over, and place frozen food in a plastic bag. When ready to prepare replace the frozen peppers in the casserole and bake to serve.
This recipe was given in the column six years ago and it is delicious.
The amount of stuffing given will fill six large sweet green peppers. Chop one-half cup of onion fine, add to two tablespoons cooking oil, brown lightly. Add one pound of ground lean meat, brown lightly. Add one small green pepper chopped fine. Mix into the vegetables and meat one and one-half cups of cooked long grained rice, add two teaspoons of Worcestershire sauce, one-fourth cup of Parmesan cheese, one and one-fourth teaspoons salt. Allow to cool.
Wash and remove a thin slice from the top of each pepper, drain. Then fill each pepper with the filling.
Place the stuffed peppers in casserole, then pour over tomato sauce.
Prepare eight ounces of tomato sauce for four peppers. Cooking fresh ones and putting through a seive, add a pinch of sweet basil herb, one-one-half cup of water and a dash of salt and pepper.
Cover the six peppers with the sauce and freeze, either in packages of two, three, four or six.
By freezing the food in a casserole lined with foil, that frees the dish for use in other frozen casseroles. Be sure to mark clearly what food is packaged and how many can be served.
You may wish to add to the sauce to suit the taste of your family.
More Recipes For You To Enjoy: