This recipe was written on a lined index card and found in a large collection, date unknown. I've typed it below along with a scanned copy.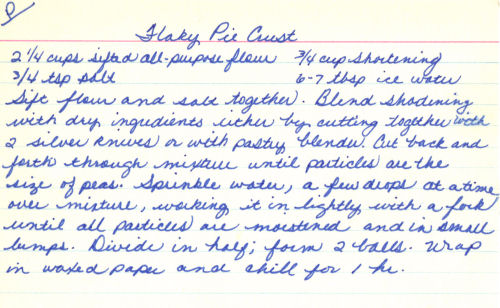 Flaky Pie Crust
2 1/4 cups sifted all-purpose flour
3/4 tsp salt
3/4 cup shortening
6-7 tbsp ice water
Sift flour and salt together. Blend shortening with dry ingredients either by cutting together with 2 silver knives or with pastry blender. Cut back and forth through mixture until particles are the size of peas. Sprinkle water, a few drops at a time over mixture, working it in lightly with a fork until all particles are moistened and in small lumps. Divide in half; form 2 balls. Wrap in waxed paper and chill for 1 hr.
More Recipes For You To Enjoy: