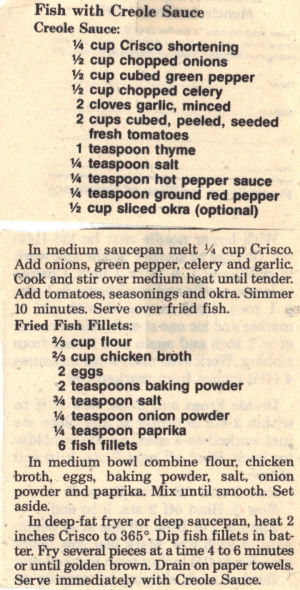 This recipe was clipped from a magazine and found in a large collection, date unknown. I've typed it below along with a scanned copy.
Fish with Creole Sauce
Creole Sauce:
1/4 cup Crisco shortening
1/2 cup chopped onions
1/2 cup cubed green pepper
1/2 cup chopped celery
2 cloves garlic, minced
2 cups cubed, peeled, seeded fresh tomatoes
1 teaspoon thyme
1/4 teaspoon salt
1/4 teaspoon hot pepper sauce
1/4 teaspoon ground red pepper
1/2 cup sliced okra (optional)
In medium saucepan melt 1/4 cup Crisco. Add onions, green pepper, celery and garlic. Cook and stir over medium heat until tender. Add tomatoes, seasonings and okra. Simmer 10 minutes. Serve over fried fish.
Fried Fish Fillets:
2/3 cup flour
2/3 cup chicken broth
2 eggs
2 teaspoons baking powder
3/4 teaspoon salt
1/4 teaspoon onion powder
1/4 teaspoon paprika
6 fish fillets
In medium bowl combine flour, chicken broth, eggs, baking powder, salt, onion powder and paprika. Mix until smooth. Set aside.
In deep-fat fryer or deep saucepan, heat 2 inches Crisco to 365°. Dip fish fillets in batter. Fry several pieces at a time 4 to 6 minutes or until golden brown. Drain on paper towels. Serve immediately with Creole Sauce.
More Recipes For You To Enjoy: