Here's a recipe that is typed on a large white, lined index card. Date is unknown and was found in a large box of old recipes. I've typed it out below as-is but did make some minor typo corrections. I believe this is the author's version of a restaurant chain's fish recipe but is not the official one. Also this recipe is just for the fish, nothing written for the chips.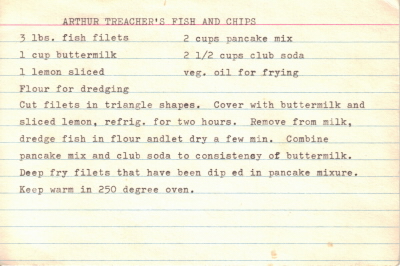 Arthur Treacher's Fish And Chips
3 lbs. fish filets
1 cup buttermilk
1 lemon sliced
2 cups pancake mix
2 1/2 cups club soda
veg. oil for frying
Flour for dredging
Cut filets in triangle shapes. Cover with buttermilk and sliced lemon, refrig. for two hours. Remove from milk, dredge fish in flour and let dry a few min. Combine pancake mix and club soda to consistency of buttermilk. Deep fry filets that have been dipped in pancake mixture. Keep warm in 250 degree oven.
More Recipes For You To Enjoy: