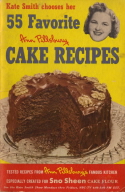 Here are pages 54 and 55 from the vintage cookbook "Kate Smith chooses her 55 Favorite Ann Pillsbury CAKE RECIPES". This was published in 1952 by Pillsbury Mills, Inc. Kate Smith was a popular singer and radio personality with a career that began in the 1930s.
You can view all the pages in this cookbook by visiting this category: 55 Favorite Cake Recipes: Kate Smith, just click a page title to view that section. There is a scan of the pages included below, you can click the image to view a larger copy.
Fillings
Place a luscious, smooth filling between two layers of cake, and you give your cake an entirely different appearance and flavor. Here are several of our favorite fillings.
Cream Filling
A perfect filling for Boston cream pies. And delicious, too, between two layers of chocolate cake.
Fills two 8 or 9-inch layers.
Heat . . . 1 cup milk. Add
2 tablespoons butter.
Combine . . . 1/3 cup Pillsbury's Best Enriched Flour
1/4 teaspoon salt
1/3 cup sugar
Add . . . 1/2 cup cold milk and stir until smooth. Add to hot milk; stir constantly until thick.
Blend in . . . 2 slightly beaten egg yolks, to which a little of hot mixture has been added. Cook about 2 minutes, stirring constantly. Cover; cool.
Add . . . 1 teaspoon vanilla.
Lemon Filling
Serve the lemon or lime fillings between two layers of white cake, pineapple with the pineapple cake on page 33.
Fills two 8 or 9-inch layers.
Blend together 1/4 cup cornstarch
1/4 teaspoon salt
2/3 cup sugar
Add . . . 1 cup water and mix well. Cook over direct heat until thick, stirring constantly.
Beat . . . 1 egg yolk slightly. Add a little of hot mixture, then return to mixture in saucepan.
Cook . . . over low heat about 2 minutes, stirring constantly. Remove from heat.
Add . . . 3 tablespoons lemon juice
1 tablespoon grated lemon rind. Cool.
LIME FILLING
Prepare Lemon Filling, substituting 3 tablespoons lime juice and 1 tablespoon grated lime rind for lemon juice and rind. Add 2 drops green food coloring.
PINEAPPLE FILLING
Prepare Lemon Filling, decreasing lemon juice to 2 teaspoons and substituting 1/2 cup crushed pineapple (well drained) for lemon rind.
Chocolate Whipped Cream
Delicious as a filling and frosting for jelly roll–just as good on top of a wedge of cake. And so easily made!
Combine . . . 1/2 cup sugar
1/4 cup cocoa
1/8 teapsoon salt
1/2 teapoon vanilla
1/4 teaspoon peppermint extract (if desired)
Blend in . . . 1 1/2 cups whipping cream. Chill 1 hour.
Beat . . . with rotary beater until stiff.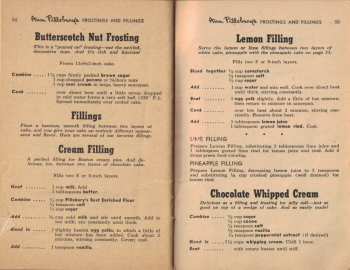 More Recipes For You To Enjoy: