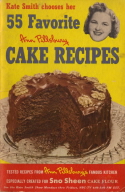 Here is page 28 from the vintage cookbook "Kate Smith chooses her 55 Favorite Ann Pillsbury CAKE RECIPES". This was published in 1952 by Pillsbury Mills, Inc. Kate Smith was a popular singer and radio personality with a career that began in the 1930s.
You can view all the pages in this cookbook by visiting this category: 55 Favorite Cake Recipes: Kate Smith, just click a page title to view that section. There is a scan of the page included below, you can click the image to view a larger copy.
Favorite Chocolate Cake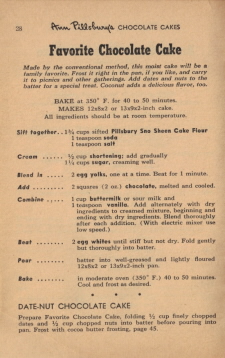 Made by the conventional method, this moist cake will be a family favorite. Frost it right in the pan, if you like, and carry it to picnics and other gatherings. Add dates and nuts to the batter for a special treat. Coconut adds a delicious flavor, too.
BAKE at 350° F. for 40 to 50 minutes.
MAKES 12x8x2 or 13x9x2-inch cake.
All ingredients should be at room temperature.
Sift together . . . 1 3/4 cups sifted Pillsbury Sno Sheen Cake Flour
1 teaspoon soda
1 teaspoon salt
Cream . . . 1/2 cup shortening; add gradually
1 1/4 cups sugar, creaming well.
Blend in . . . 2 egg yolks, one at a time. Beat for 1 minute.
Add . . . 2 squares (2 oz.) chocolate, melted and cooled.
Combine . . . 1 cup buttermilk or sour milk and 1 teaspoon vanilla. Add alternately with dry ingredients to creamed mixture, beginning and ending with dry ingredients. Blend thoroughly after each addition. (With electric mixer use low speed.)
Beat . . . 2 egg whites until stiff but not dry. Fold gently but thoroughly into batter.
Pour . .. batter into well-greased and lightly floured 12x8x2 or 13x9x2-inch pan.
Bake . . . in moderate oven (350° F.) 40 to 50 minutes.
Cool and frost as desired.
DATE-NUT CHOCOLATE CAKE
Prepare Favorite Chocolate Cake, folding 1/2 cup finely chopped dates and 1/2 cup chopped nuts into batter before pouring into pan. Frost with cocoa butter frosting, page 45.
COCONUT CHOCOLATE CAKE
Prepare Favorite Chocolate Cake, folding 3/4 cup shredded coconut into batter before pouring into pan. Frost with creamy butter frosting, page 46, and sprinkle with toasted coconut if desired.
More Recipes For You To Enjoy: