This promo recipe from Spice Islands was found in a large collection, date unknown. I've typed it below along with a scanned copy.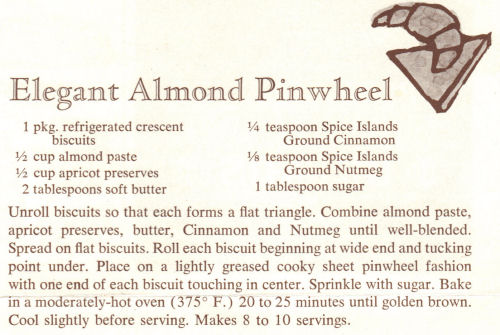 Elegant Almond Pinwheel
1 pkg. refrigerated crescent biscuits
1/2 cup almond paste
1/2 cup apricot preserves
2 tablespoons soft butter
1/4 teaspoon Spice Islands Ground Cinnamon
1/8 teaspoon Spice Islands Ground Nutmeg
1 tablespoon sugar
Unroll biscuits so that each forms a flat triangle. Combine almond paste, apricot preserves, butter, Cinnamon and Nutmeg until well-blended. Spread on flat biscuits. Roll each biscuit beginning at wide end and tucking point under. Place on a lightly greased cooky sheet pinwheel fashion with one end of each biscuit touching in center. Sprinkle with sugar. Bake in a moderately-hot oven (375° F.) 20 to 25 minutes until golden brown. Cool slightly before serving. Makes 8 to 10 servings.
More Recipes For You To Enjoy: