This recipe was written on a lined index card on found in a large collection, date unknown. I've typed it below along with a scanned copy.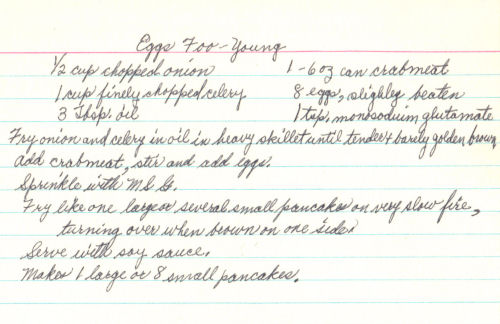 Eggs Foo-Young
1/2 cup chopped onion
1 cup finely chopped celery
3 Tbsp. oil
1 – 6 oz can crabmeat
8 eggs, slightly beaten
1 tsp. monosodium glutamate
Fry onion and celery in oil in heavy skillet until tender & barely golden brown.
Add crabmeat, stir and add eggs.
Sprinkle with MSG.
Fry like one large or several small pancakes on very slow fire, turning over when brown on one side.
Serve with soy sauce.
Makes 1 large or 8 small pancakes.
More Recipes For You To Enjoy: