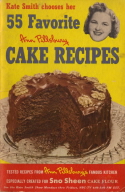 Here is page 58 from the vintage cookbook "Kate Smith chooses her 55 Favorite Ann Pillsbury CAKE RECIPES". This was published in 1952 by Pillsbury Mills, Inc. Kate Smith was a popular singer and radio personality with a career that began in the 1930s.
You can view all the pages in this cookbook by visiting this category: 55 Favorite Cake Recipes: Kate Smith, just click a page title to view that section. There is a scan of the page included below, you can click the image to view a larger copy.
This is the Easy Way to Freeze Cakes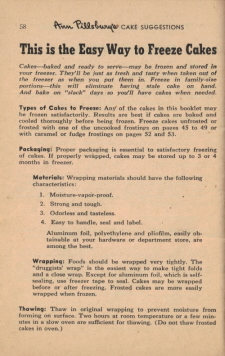 Cakes–baked and ready to serve–may be frozen and stored in your freezer. They'll be just as fresh and tasty when taken out of the freezer as when you put them in. Freeze in family-size portions–this will eliminate having stale cake on hand. And bake on "slack" days so you'll have cakes when needed.
Types of Cakes to Freeze: Any of the cakes in this booklet may be frozen satisfactorily. Results are best if cakes are baked and cooled thoroughly before being frozen. Freeze cakes unfrosted or frosted with one of the uncooked frostings on pages 45 to 49 or with caramel or fudge frostings on pages 52 and 53.
Packaging: Proper packaging is essential to satisfactory freezing of cakes. If properly wrapped, cakes may be stored up to 3 or 4 months in freezer.
Materials: Wrapping materials should have the following characteristics:
Moisture-vapor-proof.
Strong and tough.
Odorless and tasteless.
Easy to handle, seal and label.
Aluminum foil, polyethylene and pliofilm, easily obtainable at your hardware or department store, are among the best.
Wrapping: Foods should be wrapped very tightly. The "druggists' wrap" is the easiest way to make tight folds and a close wrap. Except for aluminum foil, which is self-sealing, use freezer tape to seal. Cakes may be wrapped before or after freezing. Frosted cakes are more easily wrapped when frozen.
Thawing: Thaw in original wrapping to prevent moisture from forming on surface. Two hours at room temperature or a few minutes in a slow oven are sufficient for thawing. (Do not thaw frosted cakes in oven.)
More Recipes For You To Enjoy: